SC Storage - Self Storage can help you
Save expensive commercial space , reduction of costly ------ your stationery / office supplies folders / contracts, etc. stored in the mini-storage. More effectively in relocation of office. More convenient to extract the goods to your customers and provide them with better service. Simplify office management, Effectively! Quickly! A more cost-effective storage methods.
SC Storage hotline services 24/7.
Our storage with high technical security system, 24-hour CCTV recording, alarm system devices, computer controlled door card access. Our modern warehouse management, clean, safe, high space and can store large objects, corridors designed for easy access. Our storage also equipped with a large freight elevator.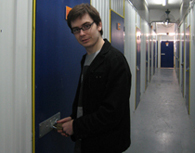 Testimonial
I was initially concerned about having 24 hour access to my storage and office, as well as the security of my equipment stored there. After I started using it though I realized it is very safe and secure, and I regularly use the services very late at night or early in the morning. It's so convenient!
Commercial Perferential
Prepay for 1 year, 10% discount
Free moving up to $3500
1st metal rack deposit free (delivery fee $100/each)
Book now at 8235 4239

Book Now!