Your Reservation

Reserve Unit
Reserving a unit is fast and easy. Please fill in your details below.
If you are already an SC Storage customer, please
*If orders begin cancelled after payment, $300 administration fee will be charged. In the event of any dispute, SC Storage's decision shall be final and conclusive.
What is next step after you reserve a unit?
Our staff will call you to make appointment and solve your problem of storage.
Packing your stuff you need to store.
Finally sign agreement and move in.
What is the next step after reservation and payment?
Our customer services officer will call you for appointment and details of move in procedures.
Customers need to bring your ID card and address proof.
(Commercial customers need to bring your BR and company stamp)
You may get a shelf from us to make your self-storage systemically arranged.
Store your stuff anytime, your home or office could be much spacious!
客戶心聲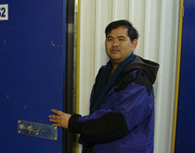 馬先生: 我好多時要收左工先過嚟放嘢或者攞嘢,有時可能成11點後,試過租其他倉有時間限制,攞到d嘢上去無得入,又要攞番轉頭,時昌就24小時開放,拍咭自由出入,呢個好方便到我!